New Construction Inspections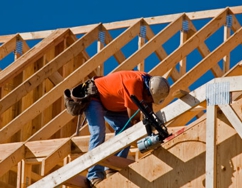 When building a new home, it is important to ensure the quality of the construction and to adhere to a strict attention to detail. This service includes regular inspections during the course of the construction of your new home. Inspections set at predetermined stages of construction are the best way to ensure quality throughout the construction process. Before you make one of the largest investment of your life take some time to research these important points:
Will you be using plans designed by a professional and have you purchased sufficient copies to work from?
What qualification are you looking for in a contractor and do you intend to solicit bids?
Does your city or county require minimum building codes? If not, will you require code compliance?
Will you use a generic contract supplied by the contractor or will you use one customized to protect you?
Will you require a detailed itemized estimate to verify draw request?
Will detailed construction specifications be incorporated into your contract? If not, who will determine the quality of materials used?
Will you perform the quality control and contract compliance or will you hire and independent inspector?
Will progress payments be verified and lien wavers secured?
Will a performance and payment bond be required?
Will 10% be retained pending the completion and acceptance of the project?
At RLM & Associates, LLC , years of contract experience has proven that if you want the house you dreamed of you better have all your requirements in writing in a signed contract, no exceptions. Call us to discuss your requirements before you sign a contract.
Construction
New Construction Inspections
Licensed Professional Engineer
M.S. Degree in Civil Engineering
30 years of experience
Solve serious residential problems
Detailed reports with images
Serving South Central Missouri